Backyard Kitchen
Provides Lot More Options Than A Normal Kitchen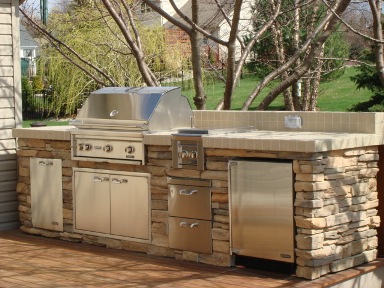 The best way to enjoy and cook at the same time is to have a backyard kitchen. The whole ambience brings in a feel of freshness. With family or friends around, a kitchen in the backyard is great fun, a welcome change from the monotony of cooking in an enclosed area.
An outdoors kitchen provides lot more options than a normal kitchen. Starting from barbeques to oven and grills, or even a fireplace, all can easily find their space in kitchen at your backyard. If we consider the latest trends, exterior kitchens are a lot more than just a barbeque or a grill. They actually assimilate an entire kitchen, sometimes even a part-living and part-dining feel.
Let us explore a few ideas that can make a backyard kitchen a fun enjoyable and successful venture.
Choosing the right appliances is the major aspect of a good design
Choosing the right appliances is a very important aspect. Appliances include; besides the normal cooking requirements in an indoor kitchen; a barbeque, maybe a grill, or ovens.
Installation of these appliances may depend on many factors. Items such as barbeques and grill should be placed in places less likely to catch fire, as well as protected from outside weather conditions. A good covering for these items is a must have feature.
Furthermore the appliances should be placed in such a manner that they do not look too clumsy or out-of-place.
Sufficient place to prepare food is very important
Space is an important parameter to think about if you have a outdoor kitchen in your mind. I personally find my backyard kitchen to be a boon because my indoor kitchen becomes too constricted to entertain the big friend circle my hubby has. If you entertain such party animals then this is the way to go.
But then, more than having space, it's important to take care of the set up such that it gives the sense of a not so crowded area. Like I mentioned above, the appliances should not be fitted clumsily.
A poorly designed kitchen is a big turn off. And thus, more importance should be given to proper and thoughtful arrangement of items.
Seating and eating arrangements in backyard kitchen
The seating and dining area need not follow any particular idea or practice. It can be designed as per the need. Make sure that the furniture matches the kitchen décor. They should not look out of place. The synchrony of furniture with the surroundings accentuates the beauty of a kitchen.
Your backyard kitchen décor must compliment the indoors
Décor, a major aspect of a proper design, should not be ignored.
Usually the outdoor kitchen is an extension of the house. So it becomes very important to choose the right colors and patterns for the décor. Color used in the house, its shades or even contrasts may be used. If the house has a traditional look, similar color schemes and patterns should be chosen for the outdoor kitchen.
Don't neglect the outdoor flooring
The right backyard kitchen flooring has three major aspects viz; lack of danger, budget and flair or fashion.
The flooring should not be slippery, and should be easy to clean off if wet. Moreover, with heavy or rarely moved appliances like the grill or barbeque around, the flooring should be durable too. That is the reason ceramic or glazed tiles may not be a good choice to make.
Ideally, concrete tiles are very good for exterior kitchen flooring, considering both budget and safety. However you need not worry from the aesthetics point of view as concrete tiles may come in various designs like: stone textured concrete, designer tiles etc.
You can get a fully loaded kitchen outdoors by adding on amenities like a fireplace and may be a set of vintage chairs by it. Having a fireplace increases the look and glory of the outdoor kitchen manifold.
There is something more required to make a successful backyard kitchen than just the looks, and that is quality and durability.




Return from Backyard Kitchen to Kitchen Designs Hub home