Kitchen Lighting
The Most Important Aspect of Your Kitchen's Ambience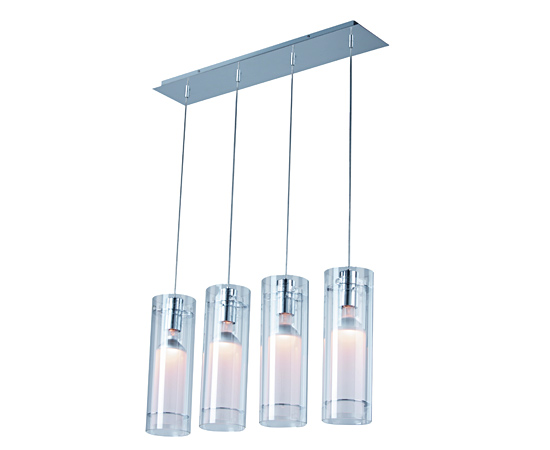 Kitchen lighting is very important not only for the aesthetics of the kitchen but also from utility and safety aspects.
But then how often do we make mistakes with the layout of lighting in our kitchens and then accept the consequence with a grin waiting for renovation time.
Wouldn't it be nice if we spent some time on planning proper lighting to avoid all that frustration? I certainly feel the time spent would be many times worth it.
Usually kitchen occupies less floor space than most other rooms in any house plan. But it is a very significant part of the house and the beauty of your house is accentuated by a nicely put up kitchen. A kitchen being beautifully designed is just not sufficient. It's got to be usable and comfortable to work in. It's but obvious that lighting has a significant role in it providing you a workspace that is comfortable and aesthetic.
Common Mistakes Made During Planning Kitchen Lighting
The purpose of dedicating this section to common kitchen lighting is to make you aware of the basic mistakes that people commit. Keep yourself away from these traps and I promise you will be happy with the plan you come up with for lighting of your kitchen, if not ecstatic.
Most of us think one major light in the kitchen will suffice the need. Unfortunately its not so. Imagine yourself working on the countertop with the main light source at your back. Can you imagine yourself working in your own shadow?
There are different sections in the kitchen which demand different types and intensity of light. So if you are coming from the school of thought that believes in one light per kitchen then please rethink about your decisions.
Another major mistake that is common place in many kitchens is the improper plan of recessed lighting. Most people just follow a pre determined pattern of recessed lighting without really sticking to the pattern of the cabinets. This is not going to be of much help. Think carefully about your light needs before following any patterns for recessed lighting.
Do you have one switch for all your kitchen lights? May be you do
…at least that is what most of us do if statistics are to be believed and that is one of the most common mistakes.
Please understand that you will need different lighting at different points of time and thus a single control will not be enough for that. You got to have few options for individual light types. More over, position of the control switches must be planned well in advance. If not you might have to put them at places where either they look out of place or are just not easily accessible.
Now that you are aware of what not to do shall we move on to what to do and where to start?
Where to Start With Your Kitchen Lighting Plan
Let's take this step by step. First divide the kind of kitchen lighting you need into different segments viz
General Lighting
Task Lighting
Decorative Lighting
General lighting refers to the basic lighting arrangement needed to ensure safe movement. This could be taken care of by an overhead chandelier or some other arrangement. This light need not be the brightest. Once you have decided on your options with general lighting its time to look at the light options for your work stations.
Workstations involve task lighting which must be the brightest in the kitchen. This is what will help you carry activities safely and smoothly.
Care must be taken for the placements of these lights and they should complement the workstation. For example you will need lateral light when you are working on the counter top but while working on the stove an over head lighting arrangement would be better.
Finally comes decorative lighting which is not insignificant in any way of your kitchen aesthetics make sense to you. These lights are for the purpose of enhancing the look and feel of your kitchen. They highlight the beautiful details you want your visitors to see.
My suggestion is be careful and study the pattern of your cabinets and other parts before deciding where to put the decorative lights.
Hope you have a nice time modelling or remodelling your kitchen lighting arrangement with our dos and don'ts.




Return from Kitchen Lighting to Kitchen Designs Hub home