Kitchen Curtains
Easiest Way To A Fancy Looking Kitchen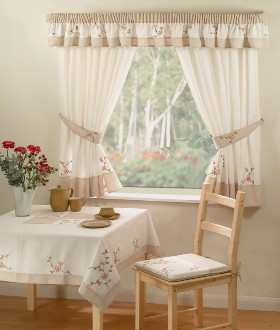 But where do you start and how do you choose kitchen curtains for your kitchen?
If you go out searching for kitchen furnishings, chances are you will feel overwhelmed all those beautiful options staring at you. In such a situation it's really difficult to decide on a set of curtains that you could take home.
However understanding some basic steps of choosing curtains will help you breeze through the selection process. In this article we will explore various nuances of choosing kitchen curtains.
Choosing kitchen curtains should not be a one size suits all affair. Every kitchen is different and their need as far as curtains are concerned is also different. More over would you like it if your neighbour had same kitchen drapes like yours? I know I wouldn't.
Give the kitchen a look that speaks of your taste and not what somebody else feels is good.
Choosing Kitchen Curtains
Curtains may be classified based on various parameters like fabric, color, shape, pattern etc. Whatever be the chosen curtain, it should compliment the beauty of your kitchen. So without further ado let's dive into to select the best curtains for you.
Size of Kitchen
Size of the kitchen decides the type of curtains you should go for, if at all. There is absolutely nothing right or wrong here as choosing curtains is a matter of personal taste. But then as a basic thumb rule it's advisable not to go for drapes or large curtains for smaller kitchens. That will give an overwhelming look to the kitchen. Similarly it's advisable to use light colored ones in small kitchens.
Size of Window
Size of the window is another factor that will determine the type of window dressings you can go for. For very large kitchen windows you got to think of avoiding sagging of the curtain at the middle. This happens to be a very common problem with large windows. Light and warm colors go well with large curtains.
Smaller windows in kitchen can be decorated with bold colors. Window Blinds are a great way of furnishing small kitchen windows.
Light Requirement
Curtains of kitchen should take your light requirements into consideration. During the day enough sunlight should penetrate through the screen into the kitchen. Similarly during the night it should complement the overall kitchen lighting.
Location of Window
Location of kitchen window greatly affects the kitchen curtain selection. If the window is located very close to the stove then its not advisable to go for very light fabrics as it might fly onto the stove which then may catch fire. In such cases you may go for fire resistant fabrics. Very thick curtains will absorb vapour exiting the cooker and will spread foul odour over a period of time. Thus you must choose the curtain carefully keeping the window location in mind.
Fabrics
Once you go searching for kitchen fabrics you will see the market flooded with a lot of options. Notable are cotton, polyester, cotton with insulating foam, ultra suedes, cotton sateen, polyester sateen and sheer fabric. Do some basic research on the various types of fabrics before purchasing.
Design and Aesthetics
You have designed your kitchen and now you must compliment that by choosing curtains that go well with it. Make sure you do not mismatch the designs completely. For example country curtains will not fit in a contemporary kitchen. Maintain the balance and you will pull out a stunning selection of curtains for your kitchen.
Keep every thing simple and take care of the above mentioned aspects while buying kitchen curtains. You will be surprised how well chosen your window dressings are.
Other Interesting Reads on Curtains
Café curtains have become very popular off late. These curtains do a good job screening the lower portion of the window. These are appropriate for your privacy without compromising with the basic ventilation and lighting requirements.
Kitchen curtains are responsible for providing the right blend of light passage and privacy. But don't you think adding color to the curtain will pep up the mood of each one getting into the kitchen?
Choosing the right color for curtains is a matter of personal choice. However a little guidance and knowledge of color combination will go a long way in giving you peppy curtains and a spiced up ambience.
Nowadays many families long for a country life away from the busy and hectic urban life. While it may not be possible to get into the country living mode right away, there are ample opportunities of bringing a little bit of country living to your city life. What better than country curtains to set up the ambience?
French country life is exotic and so are the French country themed curtains. Be it material or the lively prints; they will win your heart over. It's not becoming a fashion rage across the globe for nothing. French country curtains live up to the tradition of elegance of anything French.
Swag curtains comprise of two units of triangle shaped curtain arrangements. The units are set on the left and right side of the window. The curtain flows from the center at the top towards the frame in the sides.
Swag curtains come in various colors and finish. You will most certainly find one that compliments your décor.
With the variety of options available in the market, choosing window curtains can be a difficult affair. The single most important thing to be very sure of is your need. This article will guide you to choose the right curtain set.
What kind of window treatment will be ideal for my kitchen?
Does that sound familiar to you? There are a lot of parameters that go into answering that one question. Choice of curtains, colors, lighting requirements and texture must be wisely made for the ultimate functionality and style.
Every kitchen is unique and so are the requirements of the people staying in it. Thus it's important to understand all these finer aspects before deciding on the window treatment.
Check here how plaid curtains can recreate your kitchen décor.
Tier curtains offer an amazing amalgamation of style and functionality. Here you will find more information on tier curtains.




Return from Kitchen Curtains to Kitchen Designs home