Kitchen Cabinets
Knowing, Choosing and Buying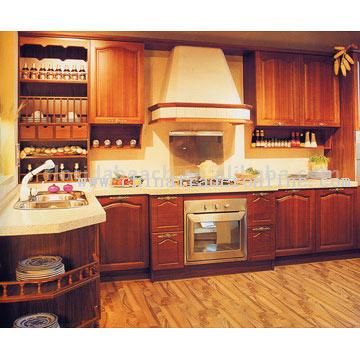 Kitchen cabinets are an integral part of any modern kitchen. Now days it's not only the utility but also the aesthetics that matter. Having cabinets that are useful and reflect your taste is something that you just cannot ignore.
Gone are the days when a couple of cabinets served the purpose of any storage within the kitchen. Today kitchen is an extended living room and there is considerable amount of time being spent there. Any guests are more or less expected to take a tour of the kitchen and sometimes it hosts a small party as well.
Did you ever think you would use the kitchen to help your kid with his homework?
With this diversified usage there arose the need of having enough well organized space that will hold all that you need to store in a way that facilitates quick retrieval. Remember this point while designing and organizing the cabinets of your kitchen. You don't want to go hunting for vegetables while the pan is over heating on the stove. So your cabinets' placement should allow you to search stuff you need easily.
Pre Designed Kitchen Cabinets or Custom Designed Cabinets?
Your options can be broadly classified into two categories viz pre designed or custom designed.
Most of the modular kitchens readily available in the market will showcase a variety of cabinets to suit your needs. You might have to go around searching for the one that best suits your requirements.
In case you are not satisfied with the kind of cabinets offered or somehow want to get your own ideas implemented then it's always possible to custom design your cabinets.
Custom designed cabinets will get in the elegance and utility that is needed for your specific requirements but then it might not be as smooth as purchasing a set from the market and installing in the kitchen. Ensure that you spend a lot of time with your designer and carpenter to get the cabinets you want.
Tips on Choosing Kitchen Cabinets
Here is a check list to guide you through the process of selecting cabinets that will make you feel like spending time in your kitchen and showing it to your guests.
Number of Cabinets

Decide on the number of cabinets you wish to have. For this the first step would be to identify all the different types of storage items like utensils, accessories, food items and display items etc.

Match the Cabinets Location to Kitchen Layout

Next step is to match the cabinets to fit in to your kitchen layout. Identify the location of each type of cabinet and frame a rough picture if possible. For example keep the cabinet where you store the tools for cleaning and cutting vegetables close to the kitchen countertop or the kitchen island. Similarly the detergent powder cabinet should be placed close to the sink.

Once the frame is outlined it will be much easier to come up with the perfect kitchen cabinet designs.

Match the Color

Match the color of the finishing surface of cabinets such that they compliment the color of the kitchen. This is such a trivial thing but will make the cabinets feel out of place if gone wrong. Therefore take some time to decide on a color that goes well with the existing kitchen décor. Have a look around the kitchen and anticipate the color pattern of the walls, countertop, island, fridge etc to decide upon the color of cabinets.

To Show or Not Show

Now you got to decide the cabinets which require transparent doors. These are essentially the ones that will house decorative showpieces, cuttlery, glassware and other such items that contribute to the aesthetics. The cabinets with opaque doors obviously will be for other items that you do not want your guests to see.
Be a little practical and a little imaginative while designing the cabinets and you will be surprised at the end result. Draw inspiration from various sources and put your thoughts into action.
Its very much possible to achieve great looking cabinets that offer good utility. All that at a reasonable price too. Hope you have fun creating cabinets for your kitchen.


---
Interesting Read For You
Learn how to secure a great deal on bargain cabinets. You can get good looking and functional cabinets for a throw away price, only if you know where to look for it. Learn to find the discounted cabinets. We will show you where to look for them.
If you have been wondering about what type of kitchen cabinet hinges to use then you should check this article which talks about various types of cabinet hinges. Some handy tips on choosing the right cabinet hinges will help you in your pursuit.
There may be reasons galore for you to take up the job of painting your cabinets all by yourself. Irrespective of whether you are hard pressed for money or you get the kick by doing it yourself, the painting tips will be of immense help.
Kitchen storage has always been a bit of a concern for home owners. Knowing what types of cabinet organizers to have is critical to efficient organization of all kitchen equipments. In this article you will learn about the basic cabinet organizers. The tips on selecting the right kitchen organizer will be of great help as well.
Buying cabinets can be an expensive affair. However it need not be that expensive if you are clear about what you need and know where to get a steep discount on the showroom prices of the cabinets.
European cabinets add the zing to kitchens. Here are some tips and pointers to help you choose and buy the best of European cabinets.
The advantage of using unfinished kitchen cabinets is twofold. One you get to save a lot of dough as you avoid the extra expenses of a finished cabinet. The finishing part may be economically accomplished if you do the work yourself or allocate it to an independent contractor you trust. The second benefit is that you get to paint and polish it as per you personal taste.
Buying kitchen cabinets wholesale may save you a little fortune. Grab your chances of buying at wholesale prices even if you don't want a big volume, with this helpful article.
This is a guide to help you through with the process of installing the cabinets in your kitchen.
Whatever be your taste and design preference, you will surely find kitchen cabinet styles that fit into your statement of style. Some of the unique designs floating out there not only get in the aesthetics but also combine the utility aspect to give you a fully loaded and functional kitchen.
Buying cabinets can be a daunting task, more so with the presence of so many manufacturers and brands. In this article I take a quick look at some of the more popular brands in the market.





Return from Kitchen Cabinets to Kitchen Designs home