My Kitchen Floor Tile
by Laura Walters
(USA)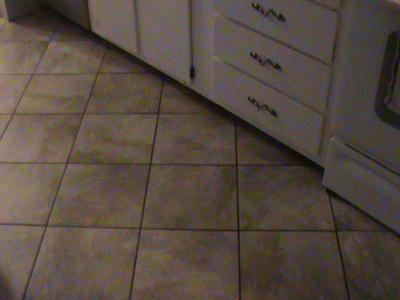 Porcelain or Ceramic

For my kitchen floor, I decided to use porcelain tile instead of ceramic tile. However, both types are considered "ceramic" tile.

The main difference between porcelain and ceramic is...

- Porcelain tile is denser and more durable than ceramic tile
- Ceramic tile is softer and easier to cut then porcelain tile

Both have pros and cons. Before you decide, you definitely want to research which is best for "your" particular project.

Kitchens being high traffic, I wanted the stronger porcelain tile. It not only gets a lot of foot traffic, but it gets things dropped on it.

For example, my 3-year old might drop a glass jar of pickles getting it out of the refrigerator. This has happened, by the way. And the porcelain tile held up without breaking. It's just what I was hoping for by choosing porcelain over ceramic for my kitchen floors.

Choosing the Tile and Matching Countertop

When it came to choosing the tile, we (my husband and I) had a look in mind we were going for. We had already chosen the wall color and painted the walls.

Note: It's not a good idea to choose the paint color first. It is much easier to match the paint to your chosen tiles than the other way around. This is because there are fewer choices for tile than there is paint color. We got lucky; we chose a neutral gray color for the walls. There were several grayish colored tiles to choose from.

Another thing we were concerned about was the choice of countertop material and color. We took a few samples of tile along with a few countertop samples. Then we chose the two that looked best together and that also went well with the wall color.

Then we went back and chose the grout color and ordered it all at once along with all the tools needed for the job.

Research Tile Articles and Videos

At first, I was a little anxious as this was my very first tile job. I had researched online for instructions for laying tile including watching videos. These helped tremendously.

Preparing and Laying the Tile

First, we had to prepare the floor including leveling one area of our kitchen that had some water damage from the previous owners. The damage was fixed, but this corner of the floor sunk a little bit.

Laying the porcelain tiles was not as hard as I had imagined. I had a lot of fun doing it. I think cutting the tiles was tricky, along with figuring out how to lay it out. We chose a diagonal pattern which can require more cutting of the tiles than a straight horizontal/vertical layout.

Starting with the string chalk line in the center of the floor, I began laying the tile piece-by-piece. When I was finished the tiles were set, I mixed the grout and filled in all the seams in-between. Then I finished with a grout sealer.

My awesome Porcelain Kitchen Floors

I love my new kitchen floors and am glad that I did it myself. Now onto my next project: Tiling the bathroom. In the bathroom, I'm tiling the walls, also. It should be fun trying to figure it out.

Join in and write your own page! It's easy to do. How? Simply click here to return to Kitchen Designs.